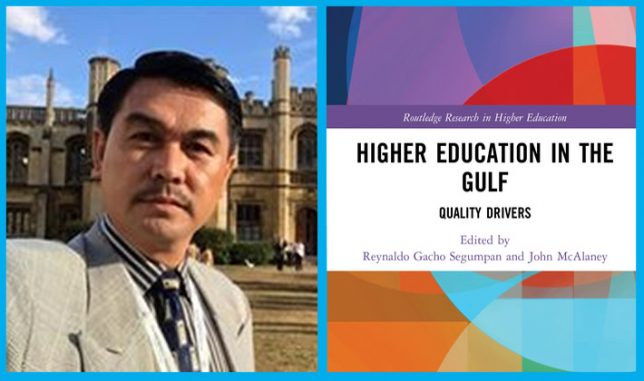 Reynaldo Gacho Segumpan has been awarded IST Fellowship (FIScT) this July 2021. He has almost three decades of academic, research, and leadership experience (such as being a department head, program coordinator, and deputy director) in the universities in Philippines, Malaysia, and Oman. He has multi-disciplinary expertise: social media and communication (inter/cross-cultural, organizational, business, and instructional communication), higher education, human resource management and development, organizational behaviour, and qualitative research methodologies, among others. A Chartered Scientist (CSci) as well as Chartered Manager and Chartered Fellow (CMgr FCMI) of the Chartered Management Institute, UK and Fellow of the Higher Education Academy (FHEA), UK, he is a prolific writer and researcher and has published locally and internationally. His most recent book publication is on drivers of quality higher education in the Gulf, which can be accessed here: https://www.routledge.com/Higher-Education-in-the-Gulf-Quality-Drivers/Segumpan-McAlaney/p/book/9781032004365. He has also participated in seminars, workshops, and symposia as a paper presenter, moderator, discussant, workshop director, organizer, and keynote speaker in Cambridge, Manchester, Florida, San Diego, Hawaii, Neuchatel, Singapore, Ulaanbaatar, Bangkok, Kuala Lumpur, Surabaya, Bandar Seri Begawan, to name a few.
"Being a Fellow of the Institute of Science & Technology is a dream come true to me. It is an opportunity for me to share experiences, practices, and service with/to the IST community, other professionals in the UK and elsewhere, and collaborate with them on mutually gainful projects/endeavours," remarked Reynaldo, who holds a PhD and a Doctor of Communication (Chancellor's List) from West Visayas State University and University of the Philippines, respectively. He also holds three Master's degrees, and a Bachelor's degree in Education (Magna Cum Laude). Dr. Segumpan has received awards/conference grants from the British Council; World Society Foundation, Switzerland; UK Department for Business, Energy, and Industrial Strategy; UK Science and Innovation Network; and Knowledge Management Society of Korea, among others.
Currently, he teaches business and management courses at University of Technology and Applied Sciences-Ibri (CAS), Oman. He can be reached at https://twitter.com/segumpan and https://www.linkedin.com/in/reynaldo-gacho-segumpan-5a8a926/.