Article by Ian Tidmarsh, IST Member.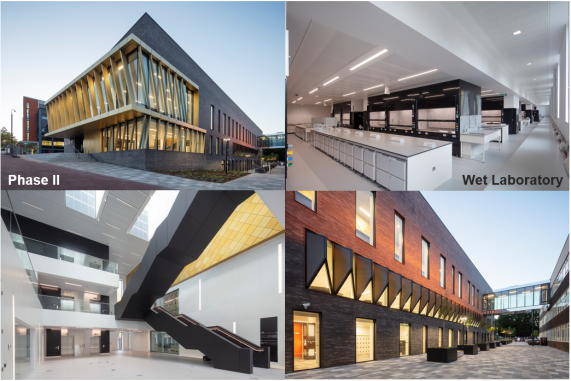 Large, multi-disciplinary teaching facilities such as the Collaborative Teaching Laboratory (CTL) at the University of Birmingham require well organised, flexible and appropriately trained technicians.  Ian Tidmarsh explains how the CTL technician strategy was developed to ensure the delivery of efficient and effective technical support.
Large, Flexible and Multi-disciplinary Laboratories
The CTL is the University's hub for practical teaching, with large and flexible laboratories enabling the co-location of activity from multiple disciplines.  Phase I of the CTL opened in 2016; Phase II is now complete, staffed and will open later this year.  The second phase adds 3 new laboratories (see table) and amalgamates existing facilities to deliver 10,000 m2 of teaching and learning space.

Flexible laboratory design is a departure from discipline-specific spaces which are often underutilised (booking rates as low as 10%) and don't deliver value for money.  In contrast, booking rates in CTL's multi-disciplinary spaces exceeded 80% in some areas.
Given that technicians are essential to laboratory (and more widely TEF) success, a modernisation of the technician service was undertaken.  Technicians previously allocated to single disciplines (blocking flexibility) coalesced to form a unified cross-discipline service.
Technician Strategy Developed in Collaboration with Sector-Leaders
In developing the technician strategy inspiration was taken from leading national players, the:
The strategy sought to address sector-wide concerns, primarily:
A requirement for greater technician flexibility owing to rapid change and uncertain future requirements
A lack of clear career pathways for technicians
Poor short-term resilience, a result of poor organisation amplifying the effects of absences etc.
Poor long-term resilience resulting from poor retention and a lack of succession planning
Difficulties with recruitment linked to a shortage of motivated professional technicians
Multi-disciplinary Laboratories Require Cross-discipline Technicians
The strategy addressed these concerns by delivering:
A flexible and multi-skilled workforce capable of cross-discipline working promoting development and progression, delivering enhanced sustainability and resilience
The ability to plan a technician career within an incremental role architecture designed to illustrate progression with roles aligned to the HE Technical Taxonomy (HETT) and Science Council initiatives
The opportunity to increase professional recognition and to further highlight how technicians are key to delivering sector-leading teaching
In summary the strategy delivers:

"A resilient workforce (achieved via development, progression and retention) of multi-skilled and cross-discipline technicians whose time is used effectively and efficiently"
Wider Experience and Development Opportunities for Technical Staff
Now fully implemented, the strategy is broadly based on two groups of technicians; those who primarily:
Support a specific laboratory including laboratory management and the provision of expert in-class technical support. While allocation facilitates specialist lab specific skill development wider working is encouraged for greater development and resilience
Support preparation, set-up, clear-away and related processes. Teams are deployed flexibly across the CTL delivering support where required without restriction
Diagram illustrates CTL technician organisational structure and alignment to the HETT and Professional Registrations.
Strategy Supports the Technician Commitment
The strategy demonstrates achievement against the Technician Commitment:
Visibility – Technicians are identifiable and their contribution is acknowledge by Senior University Officers and those outside the organisation
Recognition – Roles mapped against Professional Registrations and funds available to facilitate membership to the IST and subsequent registration
Career Development – A clear and incremental organisation structure aligned to the HETT
Sustainability – Flexible and cross-disciplines roles aid in knowledge transfer increasing sustainability and resilience
Positive Feedback from CTL Technicians
The strategy has been positively received by CTL technicians:

"Seeing the investment that has gone into our roles and our facilities has made me proud to be a technician"

"Being able to work across disciplines is becoming more important, this will help to make us all more employable in the future"
National Technician Development Centre
If you would like to explore the support available at the National Technician Centre (including strategic development) please contact enquiries@nationaltechnicianscentre.ac.uk