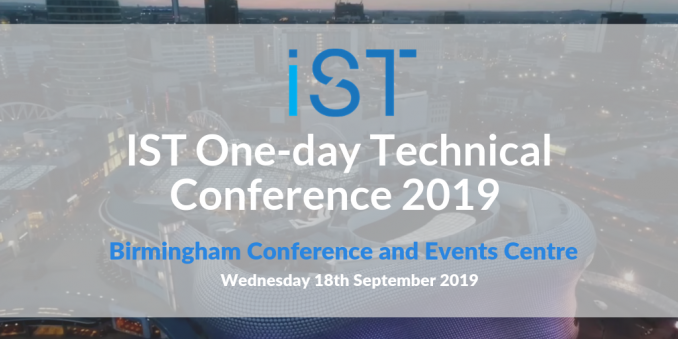 IST One-day Technical Conference 2019
We are pleased to announce that we are preparing for this year's conference to ensure it meets the needs of the technical community across all sectors.

The Birmingham Conference and Events Centre is a modern facility which is ideal for the needs and setup of the Conference. You can find out more about the venue by visiting their website here.
Delegate Rates
£57 – members rate
£67 – non-members rate
£57 – group rate  (=> 6 members/non-members)
£52 – special invite group rate (=> 10 delegates -pre-agreed with IST)
Accommodation 17th Sept – £125
Book your tickets now! Fill Out the Delegate Booking Form
Workshops and Events
At the conference this year we'll be holding workshops and events covering a diverse range of disciplines, including:
Arts, Media and Design
Information Technology
Science and Engineering
Health and Safety
Diversity and Inclusion
Education and CPD
Click here to see the full programme of workshops that will be available on the day.
Sponsorship / Exhibitor Opportunities
Would you like to sponsor or exhibit at our conference in Birmingham 2019?  Please get in touch with Wendy at office@istonline.org.uk for more information.
IST Conference 2019 Sponsorship Info
IST Conference 2019 Sponsorship Form
The Roger Dainty Best Poster Prizes – Win a £150 Amazon Giftcard
We will once again be offering several prizes for the Best Poster Competition this year, in honour of Roger Dainty MBE, FIScT.
Want to win up to £150 worth of Amazon vouchers?
This is your chance to share your unique technical work experience with others in an informal way, to tell a story in pictures and/or words. Please email wendymason@istonline.org.uk if you would like to submit a poster and we can arrange to reserve a space for you in the hall.
All posters must be manned by a delegate who is attending at the conference, so that our judges to come and speak to you. The Amazon giftcard will be presented in the final afternoon session of the conference.
Click here to find out more about the Poster Prizes.
Directions from Birmingham New Street Station 
The Birmingham Conference and Events Centre is less than five minutes walk from Birmingham New Street Station using the Southside Exit. It is right next door to the Holiday Inn Birmingham, where there are designated rooms on September 17th for conference delegates. If you'd like to book a room, please contact the IST for more information.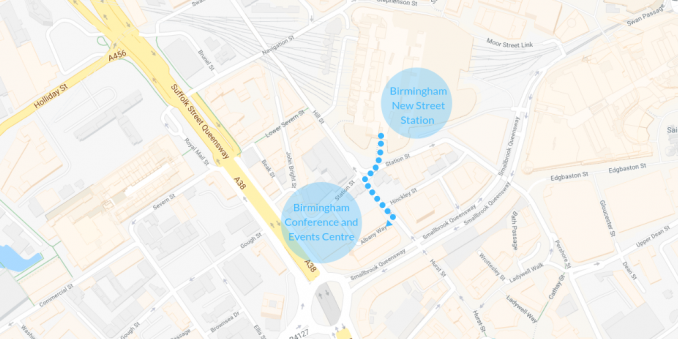 Coming by train? – Book here: Trainline.com 
The IST conference this year is starting to take shape and promises be a very exciting event, so please register early to avoid disappointment.  Use the sidebar to find out more about our workshops, keynote speakers and other events that will be happening on the day.