On a cold and windy day back in September several intrepid travellers set off on their journeys to the North East, to prepare for the IST conference in Newcastle. Despite the combined efforts of the bad weather and British Rail to thwart the efforts of the travellers they eventually arrived at the Crowne Plaza, Newcastle, several hours late and via unexpected routes. Once checked into the hotel, work began to layout exhibition space, check name badges, prepare poster space and complete numerous other small organisational tasks.  The Hotel staff couldn't have been more helpful and soon it was time to wrap up for the evening and relax for a little while over an evening meal, and then retire in readiness for what promised to be an excellent event the next day – assuming of course that the storms abated overnight and allowed delegates to travel.

After a good night's rest and with a 7.30 start on the 20th September, the final preparations for the IST Conference swung in action, and exhibitors and delegates started to arrive…some more windswept than others. Spirits were good, and delegates arrived in good numbers, the majority of the 290 who registered making it to the event – well done everyone! After a quick cuppa we were ready to start.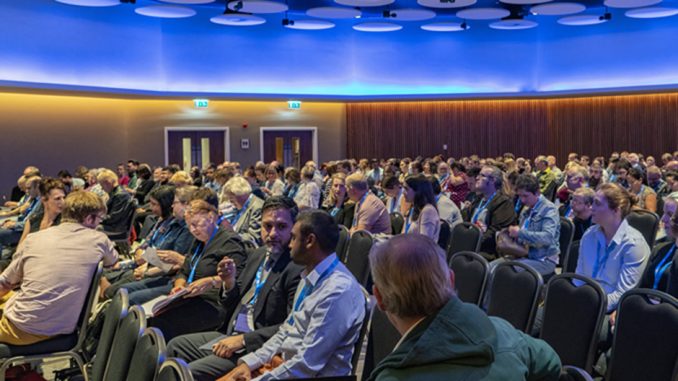 After a short welcome from our Chair, Terry Croft MBE, we were underway and our first Keynote speaker, Dr Kianoush Nazapour, currently a Reader in Biomedical Engineering at School of Engineering, Newcastle University, stepped up to deliver his presentation Star Wars, Terminator, Bionic Hands – Science Fiction or Reality? The session was, without doubt fascinating, and much enjoyed, as can be seen from a few comments from the delegates:
"Loved the talk on Bionic hands and computer interface /Artificial intelligence it is cutting edge and practical"
"It's fabulous to learn about an area you wouldn't normally be familiar with and also the struggles that are encountered"
"The keynote sessions were both very interesting and inspiring! Sometimes it's good to be reminded why science is important and interesting!"
Following Dr Nazapour's session delegates broke into smaller groups to attend various workshop sessions:
MotoE Electric Superbike – Miquel Gimeno-Fabra (University of Nottingham) and Robert Driver (Brunel University)
"Fascinating and amazing to see a UK university competing with the world leader."
Plastic – What is the Future? – Jon Harvey (The Environment Agency Plastics and Sustainability Team)
"The talk centred on plastic pollution, but it did spark my thoughts about plastics, the starting point for thinking about how much single use plastics we use in our research and teaching activities, how can we reduce"
Just in time learning: Using QR codes to bring digital resources to life in the fashion studio – Marie Slater & Kate Soper (Manchester Metropolitan University)
"Very engaging and useful something I will definitely look at implementing in my own institution."
A technician's eye view of the history of science – Andy Connelly (University of Leeds)
" A very engaging and interesting talk which i felt was applicable to everyone in attendance."
Centrifugation Clinic – Peter Rignall (Eppendorf)
"The content of the talk was interesting & the speaker was friendly & welcoming"
After a busy and interesting start to the day a refreshment break was very welcome, and we headed to the exhibition hall for a cuppa and had a short visit to a couple of sponsors and a brief look at the posters. The number of posters submitted this year was more than expected, and it was great to see so many techs wanting to display their work, although there were too many to view in one visit to the poster area! Then, before we knew it, it was time to find our way to the next session.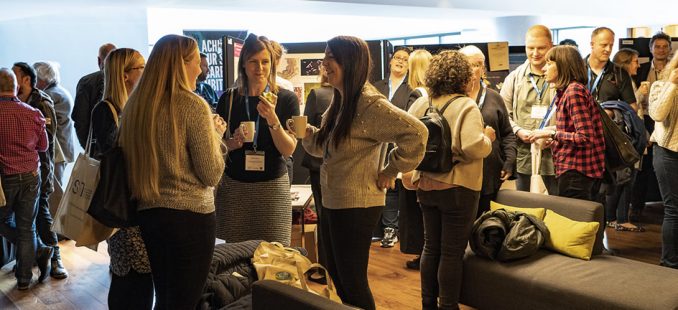 The next group of workshops offered a great choice of topics, and most sessions were very well supported, so finding a good seat was a priority. The workshops included:
CERN – working on the edge of technology – Raymond Veness (CERN)
"This was very good and very tailored toward technicians. Very interesting to learn of Cern's reliance on technical staff"
Our WorkFit Journey at the Environment Agency – Alison Thwaite & Tom Jackson (Environment Agency/Workfit)
"Great talk by Alison. Loved the rapport between her and Luke. Have family member with DS and Workfit doing a great job and needs promoting/touring to break down barriers and stereotypes."
The history and ethics of laboratory animal research – Mark Ariaans (University of Sheffield)
"Careful approach to direct material with considerable detail to inform an intelligent audience that may not be familiar with the origins and rationale for continuing use of animals in product testing."
ULT Freezers and Sustainability – Peter Rignall (Eppendorf)
"The presenter was knowledgeable, and I learnt a few things."
Technical Staff Performance Management 'The First Conversation' – Mark McDonagh (Staffordshire University) & Paul Walsh (Manchester Metropolitan University)
"Presenters engaging and knowledgeable, multi format workshop with video examples about difficult performance related conversations. Will be taking the advice on board and trying to use to aid the management of my team"
Phew – what a busy morning! Lunch followed, although unfortunately we had to queue for a little while, because of the high number of delegates….a note for next year's Conference organisers! There was also plenty of time for another chance to connect with the sponsors and review the posters that had been submitted. The posters were of a very high quality and were judged by our President Helen Sharmin CMG OBE, Natalie Kennerley (IST Secretary) and we were delighted to that our Key Sponsors, CERN and Veolia joined the judging panel. After recharging our batteries, we were ready for the afternoon sessions.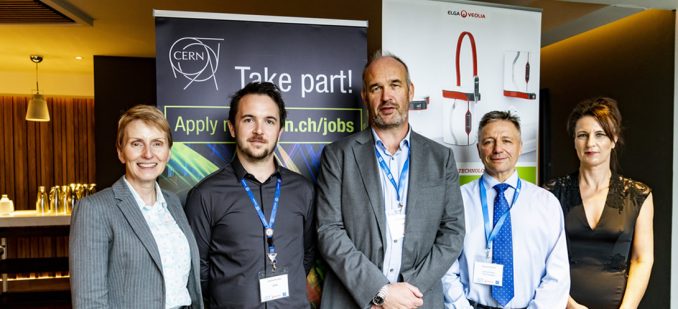 Firstly, we sat and listened to an excellent Keynote presentation from Prof Sir Doug Turnbull, Professor of Neurobiology at Newcastle University – 'Diseases affecting the small circle of life', which was outstanding, with lots of positive feedback from our delegates.
"Really interesting keynote talk presented in a manner that was easy to understand by the whole scientific community."
"Progress has been amazing in this field, hopefully this will continue with the skills and expertise from all team members – clinical, technical and ethics."
"I especially found the talk on mitochondrial disease fascinating even though it is far removed from the area I work in."
Following on from the Keynote we learned who had won the Roger Dainty Poster Award. Roger was a much respected, inspirational Honorary Fellow of the IST who is much missed, and the Prize in his memory was to acknowledge the great work done by the technical community. It was particularly gratifying to see so many posters having been submitted, which amply demonstrated the quality of the work done by technicians and technical specialists, and we were delighted that our President Helen Sharman CMG OBE, was available to present the prizes:
1st Best Poster Prize David Race and colleagues, 2nd Prize Laura Hartshorne, 3rd Prize Matt Peake.
Well done also to those who received commendations:
Tyler Harvey-Colishaw, Chris Huggins, Claire Hutton, Rachael Jones and Julia Spoors.

After congratulating our poster winners, we were off to find our final workshop sessions, and these proved to be as popular, varied and interesting as our earlier ones:
The Future of Technical Services: How to Make Friends and Influence People – Richard Cutting & Karen Henderson (Senior Technical Managers Network)
"Great networking meeting, with registration of email addresses and signatures so that contact can be made."
Professional Registration? At my age? – Frank Fletcher (University of Sheffield)
"Interesting presentation of a personal career journey-very inspirational."
CPD: A practical toolkit for building your portfolio – Jemma Walker (Birmingham Women's Hospital)
"Interactive workshop, well presented, more information on how to more carefully reflect on what has been learnt from CPD activities"
The Technician Commitment: A practical workshop on Technicians making it happen – Jon Kelly & Sarah McCafferty (University of Edinburgh)
"It was good to hear other people's ideas and I went away with personal actions"
Giving yourself a boost – how to feel valued for what you do – Charlotte Ashley-Roberts (Institute of Physics)
"Interesting sectioned interactive approach with fairly deep questioning activities. Light touch considering the potential impact of the conversations it promoted."
There was Just enough time left for a final cuppa and spot of networking before we headed into the final closing remarks from Ian Moulson (IST). There was widespread agreement that all the efforts to get to the Conference had been well worth it and we learned that Birmingham is the venue for the 2019 Conference – so we said goodbye to friends and colleagues and headed off on our respective journeys home, hoping that travel would be less eventful than the trip out!
A special thanks to our Key Sponsors, all our exhibitors, our Career Zone supporters for all their help, which is much appreciated – it was especially nice to see our nominated charity Down's Syndrome Association/Workfit had been able to join us. Many thanks of course to all our delegates for making the Conference a great event – we're hoping to see as many of you as possible in Birmingham.