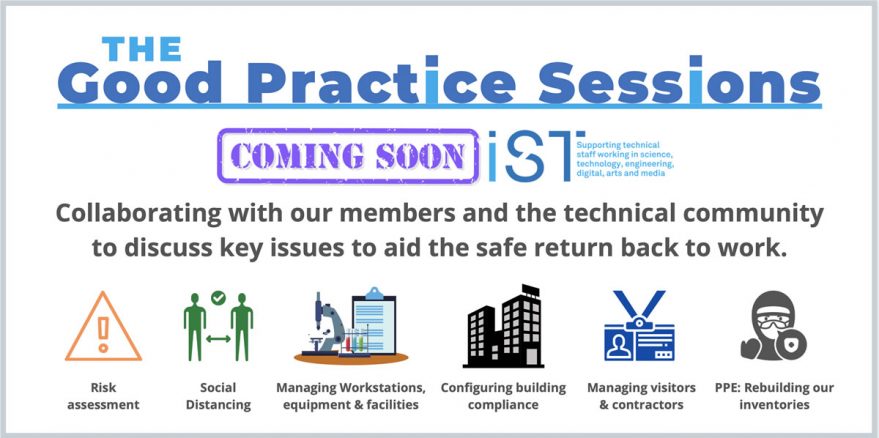 Are you feeling like there is so much to take in post-lockdown? Are you hoping to hear what other individuals and organisations are doing in the technical community to aid returning to work? Maybe you are back at work already and would like to share best practice with your community?
We are planning on running a series of sessions, starting with our Collaborative Virtual Meetings to pick up on essential discussions around the safety aspects of returning to work, sharing best practice, airing concerns and learning from each other.
Our first Collaborative Virtual Meeting is on Thursday 14th May at 1pm with the Creative Industries Group.
Our second Collaborative Virtual Meeting is on Wednesday 20th May at 1pm with the Science & Engineering Group.
These initial meetings will allow us to begin discussions with the technical community which can aim at voicing:
the extent to which teams are running and concerns,

expectations of the lockdown and lifting restrictions,

topics and themes for the following sessions.
These sessions following will be known as the Good Practice Sessions.
These sessions will be directed by what individuals would like to discuss and share best practice. Some sessions may be specific to the particular groups above but some may be joined. Each session will have certain topics and themes for discussion so that we can keep conversations focused and importantly, not take up too much of people's time. These one hour sessions will then be followed up with an information cascade to disseminate the information gathered.
We welcome Technical Managers, Technicians, Scientists, Engineers and Creative Professionals from all environments, disciplines and sectors to join us for this series, with individuals from Technical Services, Facilities & Departments to Research Institutes, Centres and Industry Services.
Please contact j.p.ashton@istonline.org.uk if you are interested in dialling-in.
Many of us will have seen the Government Plan to Rebuild Document and Working Safely During COVID-19 in Labs and Research Facilities. We will reference the Government resources, with the aim to discuss important guidance.
IST Resources for Members, Registrants, COVID-19 Hub
Suggestions for the Good Practice Sessions:
Risk assessment & social distancing in the laboratory environment post-lockdown
Managing workstations, equipment and core facilities
Configuring buildings and managing compliance for social distancing
Managing visitors and contractors
Furloughing of technicians
PPE – rebuilding our inventories