The Institute of Science and Technology held its 63rd AGM at 1pm on Wednesday 16th May 2018.
Many thanks to those who attended this year, don't forget that the Institute of Science & Technology is YOUR Professional Body, therefore all Members are welcome to attend the AGM every year.
The meeting was hosted at the University of Sheffield and commenced with the Chairperson's report from Terry Croft, and the Finance report was developed by Finance Officer Joan Ward and delivered by Michelle Jackson in her absence.
Our President, Dr Helen Sharman OBE, could not attend this year, but made the time to write her Presidents address for the AGM, which Terry reported as follows:
"The Institute of Science and Technology remains focused on supporting its members, be they individual technicians or organisations that employ technicians. This is done in many ways at many levels and by many people. The support given to individuals like mentoring and specific career guidance has not diminished and work with employers continues to gain momentum with the Technician Commitment.

Notwithstanding direct support to members, the IST, along with other professional bodies affiliated to the Science Council, has been examining its relationship with the Science Council and much effort has been given over recent months to ensuring that the Science Council represents our views to Government, communicates to us relevant issues and transfers best practice and ideas between professional bodies. All this needs to happen efficiently of course, including making best use of funds, while remaining on the right side of General Data Protection Regulations. The outcome of an intense exchange of views has led to a better understanding by the Science Council of the way the IST operates and supports its members, along with an improved sense that smaller professional bodies like the IST should be taken notice of. We go into the next year with confidence that the IST is being taken seriously at a national level.

IST's 'business as usual' as well as additional Science Council matters would not have been possible without the time, dedication and commitment that many members make to the IST and to other IST members. Thank you to everyone who has contributed to the IST's success this year. I would like to make particular mention of Terry Croft and his Executive team for their hard work that has enabled it all to happen.

Finally, I wish you a successful AGM and I look forward to seeing you at this year's annual conference in Newcastle in September."

– Dr Helen Sharman OBE, IST President   
At every AGM, elected positions of the Executive have to undergo elections and retiring members are eligible for re-election. This year Terry Croft was re-elected to the Executive.
This year Ian Moulson chose to stand-down after many years serving the Executive and it was with much reluctance and sadness that his resignation was accepted. A Nomination for Michelle Jackson to take up the vacancy in elected Executive members was received and accepted.
Derek Sayers has operated as a co-opted member of the Executive in recent years and he chose to also step down from his Executive seat and his resignation was accepted with much appreciation for his valued support over his many years on the Executive.
This leaves three available spaces for IST members to be co-opted onto the Executive for a fixed period to undertake specific roles as defined by the Executive and this will be considered during the forthcoming year.
Although it is with great sadness that two longstanding and influential members of the Executive have stood down, it is a great delight that both have accepted nominations to become Vice-Presidents of the IST. They will be continue to advise and contribute to the work of the Institute.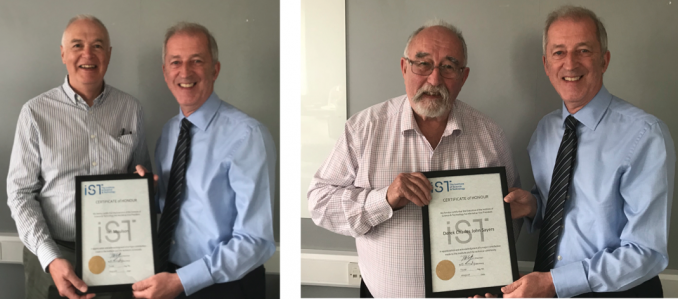 Ian Moulson (left) and Derek Sayers (right) officially accepting their new roles as IST Vice-Presidents. Very well deserved and both will play continuing important parts of the IST's future.