Wendy Mason – IST Administrator

Wendy supports our memberships, registrations, committees and meetings, and manages the IST's main office in Sheffield. She deals with all our general enquiries and helps to organise our events, visits, and conference.
Wendy also coordinates and supports our training courses (eg. Leading Your Technical Team) and the Institute's annual Higher Diploma Examinations.
John-Paul Ashton – IST Executive Support Officer & Social Media/Engagement Advisor

John-Paul (JP) works as a Research Technician at the University of Sheffield's Zebrafish Screening Facility (Department of Biomedical Science) and is an Operations & Recruitment Manager for Pro Vital Medical Services Ltd (PVMS).
He is an IST  member and a Registered Scientist (RSci). JP also assesses for the IST and Science Council registrations.
John-Paul operates as the Executive Support Officer assisting the executive and advisors with registrations, committees, meetings, events visits and conference. JP also helps manage the website and content with Joan and has been in the social media advisory role since 2015 to help the Executive develop its profile/presence on Twitter, Facebook, LinkedIn etc.
Within his full-time job at the University of Sheffield, JP is co-chair of the Technicians Network (TechNet) and has made a significant contribution to giving technicians visibility, recognition, career development and sustainability through the Technician Commitment whilst Terry Croft was institutional lead.
When he is not working full time at the University of Sheffield and IST he is a part-time Operations and Recruitment Manager for Pro Vital Medical Services having had 14 years working as a First Responder, Patient Transfer Attendant, Team Leader and Duty Manager at UK Event Medical Services Ltd (UKEMS). He also volunteers with the Scout Association.
John Dwyer FIScT CMI – IST Champions Coordinator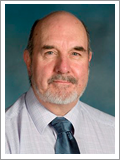 John is Faculty Superintendent and Area Safety Officer for the Faculty of Health and Medicine at Lancaster University and has worked in the NHS & HE sectors for over 40 years.
He is a graduate of the Institution of Occupational Safety and Health. He is also a Fellow of the IST, and served on a number of key committees including the IST Strategy board as co-ordinator for Partnerships/Champions.  He is actively promoting Professional Registration for the IST throughout the UK attending meetings, workshops and conferences and seeking champions for this cause at institutions nationally.
He is also the Membership Secretary of the University Bioscience Managers Association (UBMA) and hosted the 2002 conference at Lancaster University.
Geoff Howell MIScT RSci – IST China Liaison Advisor
Geoff manages a training orogramme for multi-skilling technical staff, at The university of Sheffield. The programme started in 2011 and has already produced a number of exceptional technical staff. In 2014 it was awarded international recognition by S-Labs and has since gone from strength to strength in recent times. In 2015 the training programme went international working in China developing technical staff in Tongji University.
Geoff is a Registered Scienctist (RSci) and member of the IST Education Board. His background is in IT and training and he now leads the first international technical training programme in China as part of an ongoing IST Project.
Derek Sayers FIScT, FInstLM, FRMS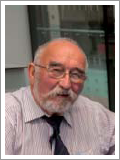 Derek  joined  Science Technician's Association (STA) in 1954 just a few months before it was incorporated and became the Institute of Science Technology (IST).  He initially worked as a Junior technician at University College London in the Pharmacology Department where The Head of the Department was Professor Winton who was at the time, President of the STA.Derek completed the Institute's own 3 year technician Course and became ordinary technician.  He joined the Royal Army Medical Corps for three years and took the medical technology examinations.On leaving the Forces he joined the Institute of Orthopaedics at Stanmore Middlesex doing research histology.  He took the City & Guilds/IST final examination in histology in 1962 and became a Senior Technician.Over the next few years he wrote a number of scientific papers on orthopaedic research, mainly new histology techniques.  He became a State registered Medical Laboratory Technician in 1968.  About 1969 he became the Chairman of the London Branch of the IST and served on the Branch Committee until about 1973In 1974 whilst still working at the Institute he became director of a small company Reco Laboratory Products Ltd.   This company still exists today under the name 'Reco Laboratory Services'
In 1982, after 3 years study Derek wrote a thesis for the IST Fellowship, on the histochemistry of mucopolysaccharides and became a Fellow of the Institute. In 1989 he joined the Council of the IST and then the Executive as the Overseas and Fellowship Officer; a post he still holds today. He retired as Manager of the Institute of Orthopaedics in 2003.
He is now semi-retired but still runs Courses on microscope repair and servicing and still plays an active part in Reco Laboratory Services. He provides valuable support for the Executive in his capacity as Fellowship and Overseas Advisor.
James Trout FIScT CMgr RSci – IST Industry Liaison Advisor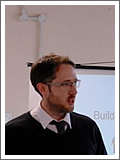 James is the Laboratory manager for the National Laboratory Site at Starcross in Devon. The NLS is a national service of the Environment Agency and provides analytical data for a range of sample types. The NLS has four sites in Nottingham, Leeds, Caversham and Starcross each with their own specialism.
As Laboratory Manager James is part of the team who run the NLS and set the vision and strategy for the business. He is responsible for around 90 members of staff and the delivery of sample data to customer agreed targets and to ISO17025 quality standards.
James is a Chartered Manager and Registered Scientist and a Director of Newton Abbot University Technical College. He will be helping the IST develop industrial links and promoting frameworks for professionalising science/technical staff working in that sector
Position Filled – IST Assistant Editor
Information coming soon.