| | |
| --- | --- |
| | |
| Mohamed El-Guindy at the lectern leading the lecture.   | The audience surrounded by Egypts President, Abdel Fattah el-Sisi. A large attendance indeed. |
Mohamed El-Guindy, IST Member and Chartered Scientist was invited by President Abdel Fattah el-Sisi to deliver speech on "The role of Cyberspace in Hybrid Warfare". The speech was part of the annual ceremony of 6th October victory organized by the Egyptian Military on 13th October 2019. El-Guindy spoke about different topics related to the use of social media as a tool of hybrid warfare and how it is now being used extensively to affect the society on different levels.
Due to the nature of the event, Mohamed tried to connect the dots between cyberspace and military strategies. one of the topics that he shed the light on was cyber threats and hybrid warfare. Military institutions use the term "hybrid threats" which refers to use of conventional military supported by irregular and cyber warfare tactics. For example, disinformation and false news which can be used by adversaries in cyberspace to fuel social fragmentation. Cyberattacks are also effective tactic to target government websites as politically motivated attacks or targeting critical infrastructure such as electricity, which can be devastating. Today we have more people, critical infrastructure and defense resources at imminent risk than at any time in our history. In addition to cyberattacks and Fake News social media become also a tool to manipulate public opinion and spread terrorists' propaganda which adds new dimension to national security threats. Therefore, It's the time that leaders and policymakers should concentrate on new and untraditional strategies to deal with cyberspace as an operation domain in addition to sea, land, air and space.
You can watch the speech at this link: https://www.youtube.com/watch?v=bZs4ecVCd3w (In Arabic)
Photo credit: Egyptian TV.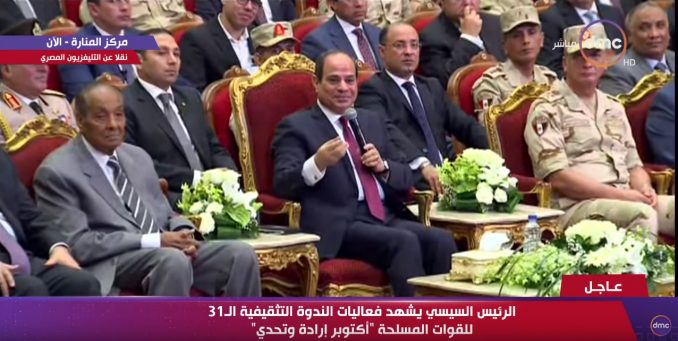 Egypt President, Abdel Fattah el-Sisi.