Birmingham Conference and Events Centre, Wednesday 18th September

On 18th September 2019, delegates arrived from across the country to attend the IST Annual Technical Conference at the state-of-the-art Birmingham Conference and Events Centre. The convenience of the BCEC being less than five minutes' walk from the train station allowed many of our delegates to arrive by train, along with several especially organised coaches. The staff at the Conference Centre were extremely helpful in directing attendees to the registration desk, where they collected their lanyards and delegate bags.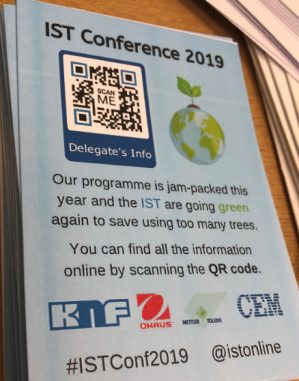 Refreshments were provided as everyone made their way through the door, allowing the early arrivals to start making their way around our sponsors and exhibitors who had eagerly arrived the night before.
After everyone had arrived, IST Chair, Terry Croft, made a prompt start and welcomed everyone to the Conference along with IST Registrar Michelle Jackson. Deputy Chair and Finance Officer, Joan Ward, then updated us on what the IST has been up to over the last year, which included workshops, talks and conferences across the country. Natalie Kennerley, IST Secretary, followed with an overview of our Creative Industries Pilot Project, which is working towards developing a professional registration framework for technical staff working within the creative industries.


Dr Helen Sharman CMG OBE, the President of the IST, then formally opened the Conference and introduced our first Keynote Speaker, Professor Alberto Vecchio. His fascinating talk on the first ever detection of gravitational waves in 2015 received consistently positive feedback following the Conference:
"The keynote address was an eye-opener to the field of physics and astronomy"
"Excellent, very much enjoyed the first keynote speaker, Professor Alberto Vecchio"
"Professor Vecchio made the complex, and for me, unfathomable science of astrophysics, a tad more understandable and fun"
"I never thought I'd understand anything linked to that area of science"
"Perfectly chosen talk and speaker"
Following Professor Vecchio's keynote talk, we all split up for the first session of workshops. This year, we made sure to identify themes throughout the workshops, both to ensure we covered a broad range of industries and to help delegates select which workshops would be of most interest to them.
The Conference themes were:

"The topics were well chosen and really show the Institute is really advancing science and Technology with it is workshops and conferences. All the speakers are well verse in the topics delivered."
"Very relevant and something here for everyone!"
"The variety of options across all scientific disciplines was welcome, as the introduction to other technology areas such as in the Arts and Design sphere"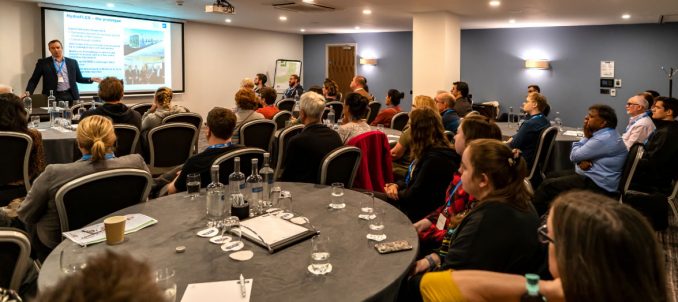 The workshops available in the first session were:
The Molecular Biology Workflow

– Peter Rignall (Eppendorf)
"It was really interesting. With this lecture, I'm developing interest in molecular Biology and Forensic Science."
Hydrogen Fuelled Trains

– Stuart Hillmansen (University of Birmingham)
"Very nice to hear about recent innovations and technical advance in an area at the forefront of the media and scientific world."
Our Technical Services Apprenticeship Programme

– Natalie Kennerley (Manchester Metropolitan University)
"Enlightening discussion indicating how future technician roles will be supported for people new to work & career path"
Photography in 2019

– Glynis Johnston & Gemma McKay (Manchester Metropolitan University)
"I found this all very valuable and enjoyable. I think a key point for me was that I could attend sessions relating to aspects I don't normally see – such as this creative photography one."
A Journey to ensure recognition for technical staff at Newcastle University

– Mel Leitch & Calum Kirk (Newcastle University)
"An interesting talk with interactive voting involved which I thought was a really good way to engage with the audience."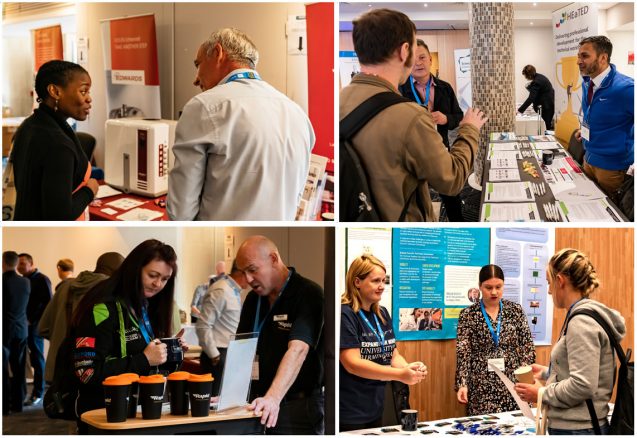 After the success of these first workshop sessions, a very welcome refreshment break was provided. This gave delegates a further opportunity to visit our exhibitor stands, network and view the posters that had been entered into this years' Roger Dainty Best Poster Competition.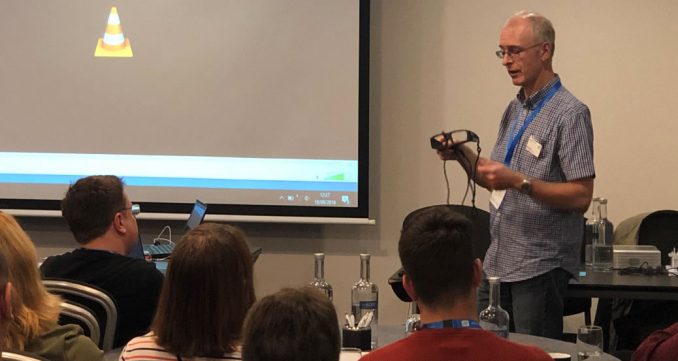 The morning ended with a second session of workshops:
Demonstration of Mobile Eye Tracking

– Paul Aldcroft (Manchester Metropolitan University)
"Really enjoyed this – presenter was knowledgeable and asked Qs to audience"
How can we improve Equality, Diversity and Inclusion for Technical Staff?

– Denise McLean & Tamsin Majerus (University of Nottingham)
"Loved the group discussions and how passionate the guys were who ran the workshop. Maybe a little more time for discussion would be good. But loads of advice was given in terms of courses or trainings to participate in for personal development. Very encouraging!"
Sharing Best Practice for Risk Assessments

 – Pamela Lithgow (Canterbury Christ Church University)
"A great discussion of the topic that brought out some good ideas for sharing."
Technician Commitment: Impact and Progress

– Jane Banks (Science Council)
"It was interesting to discuss how other institutions are getting along and what issues they too are experiencing (as well as the successes!)"
pH measurement in Theory and Practice

– Scott Marsden (Mettler Toledo)
"Did exactly what it said on the tin – the speaker was very clear and I now know how to maintain my pH meter properly so 10/10 for this one! Wasn't a sales pitch either"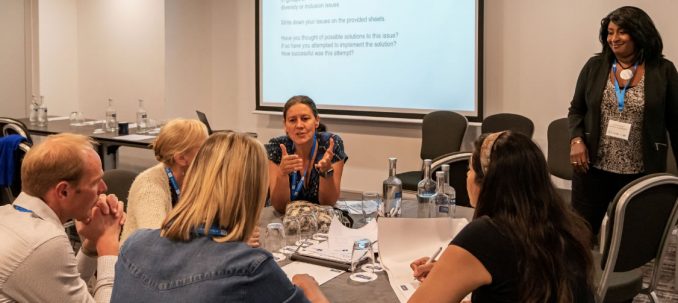 This led us into lunch, which was supplied by the BCEC. Again, this provided delegates with ample time to make their way around the exhibitor stands, view poster submissions and get to know one another, as well as the keynote speakers and workshop givers. It was also time for the Roger Dainty Poster Prize panel (made up of IST members and Executives, including Dr Helen Sharman, and representatives from the key sponsors) to independently judge the competition.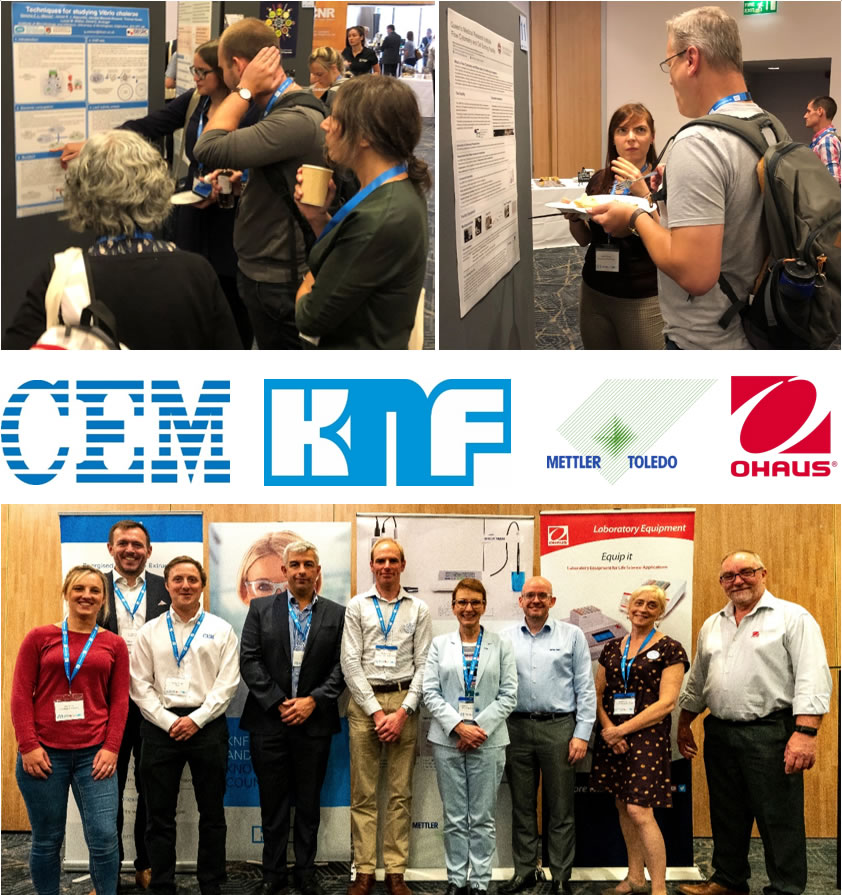 After lunch, it was time for the second keynote speech from our very own Helen Sharman, Technical Lessons from Astronaut Training. Once again, our second keynote speaker received great feedback: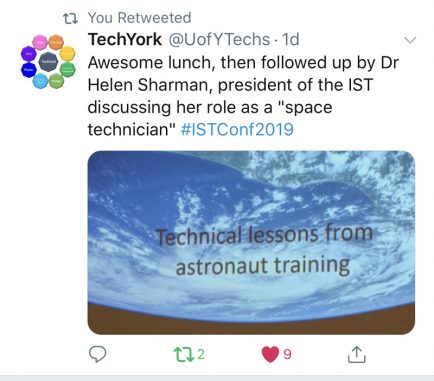 "Really inspirational talk from Helen – thank you!"
"I loved hearing from the first British cosmonaut Helen Sharman and her "ordinary" life/career path before the training. Both speakers were very approachable and totally likeable. Good choice!"
"Really enjoyed this session, interesting and engaging speaker"
"Very relevant, very interesting and great presentation."
This keynote talk was followed by the final session of workshops of the day. Again, the team at the IST worked hard to ensure a variety of topics were covered in each workshop session.
Acid Digestion through to Solvent Extraction: Versatility is Key

– Vincent Cordon (CEM)
"Superb. I fell I love with the acid digestion device and solvent extraction. A new technique that will add value to the world of science".
Influencing Strategy in Government

– Marie Oldfield (Oldfield Consultancy)
"Although not being involved with Government, I entered this talk on the assumption that 'Government' could be swapped for any 'decision maker' and I was not disappointed."
Celebrating Technical Staff in the Creative Industries

– Natalie Kennerley (Manchester Metropolitan University)
"Very interesting to hear about plans for the new register."
'Herding Cats' – Reflections on Leading Technical Teams

– Kate Dixon (Manchester Metropolitan University)
"Another good example to hear about and how they are working to encourage technicians to gain recognition. I really enjoyed listening to another case example of this."
Z

ine Making with Team Trident Press

– Lisa Lorenz (Trident Press, Manchester Metropolitan University)
"Very good practical involvement and promoted interaction between delegates"
After the third workshop session we had one final refreshment break before heading back into the main theatre, where our prize winners were announced.
The Roger Dainty Best Poster Award recognises the hard work of technical staff who create and deliver these presentations. These are judged based on the clarity of submitted material, the novelty and the visual impact. Congratulations to the three prize winners who received £150, £100 and £50 Amazon vouchers respectively, which were presented by Dr Helen Sharman.
1st Prize: Emma Monaghan, University of Birmingham
2nd Prize: Mohammad Ali Salik, University of Glasgow
3rd Prize: Jing Wood, University of York, Accepted by colleague Simon Breeden

As we had so many fantastic posters we also award commendations for posters that stood out to our judges. Well done to all those who were commended.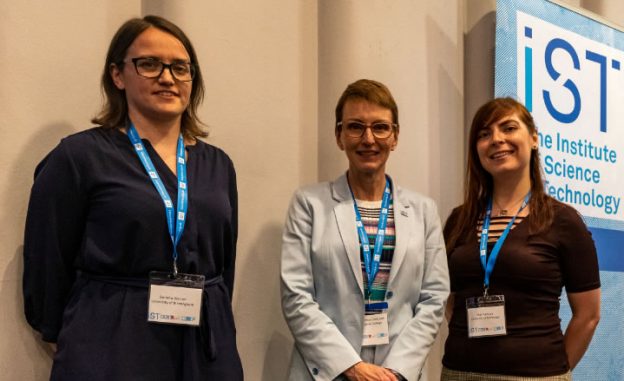 Commendations:
Mari Pattison, University of Edinburgh (right)
Gillian Riddell, Queen's University Belfast
Lisa Van Hateren, University of Sheffield
Gemma Warren, University of Birmingham (left)
This year we also held the Outstanding Apprentice / Trainee Award which was judged by John Robinson Memorial Fund representatives. Nominations came in and were made by technical staff/managers recommending an apprentice or trainee who had played a key role in their workplace. Congratulations to Harrison Barnett, University of Salford for winning this award. Lloyd Halligan, Manchester Metropolitan University as a close runner up was highly commended with an award also to recognise his outstanding contributions.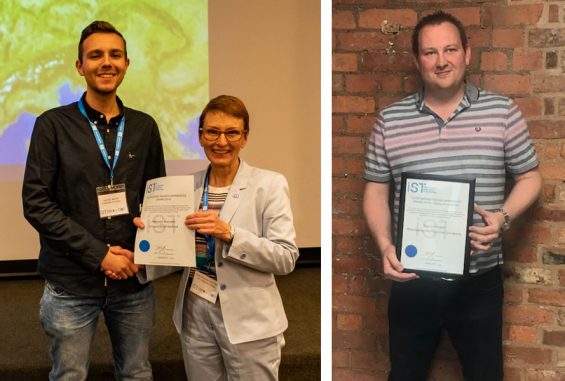 After presenting each of the award winners with their prizes, Helen brought the Conference to a close and announced that next years' event will be held on Wednesday 16th September 2020 in collaboration with the University of York during their technician week. We hope everyone had a safe journey home from the Conference and that all attendees had a great day – we know we did! We would like to say a very special thank you to our sponsors, exhibitors and career zone supporters. The Conference would not happen without every single person who attended this year, and we hope to see you all next year in York.


Photos Credited to Mr Keith Barber CPAGD FIScT LRSP, Official IST Photographer, with our most sincere thanks.
See You Next Year!