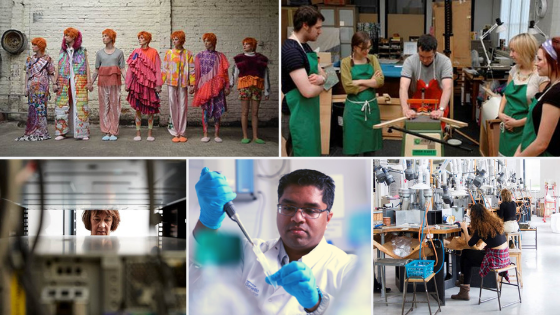 If you'd like to get involved with our pilot scheme for Registered Creative Industries Practitioners, click here.
Registered Practitioners must have a high level of technical proficiency supported by knowledge of standard operating practises and technology in their chosen field. This knowledge must be based on a fundamental understanding of their industry and relevant principles.
The qualifications typically necessary to become a Registered Practitioner are:
A Higher National Certificate or Diploma or;
NVQ/SVQ level 3 or 4 or;
A satisfactory equivalent qualification.
The experience required for registration as a Registered Practitioner will normally include:
Exercise of independent technical judgement at an appropriate level;
Design, development and operation of sophisticated apparatus or equipment;
Manufacture of products, equipment and processes to an appropriate level of cost, safety, quality, reliability and appearance;
Understanding of and involvement in statutory, financial, and commercial considerations;
Communications skills and involvement in human and industrial relations;
Maintaining a responsible and safe attitude toward their field and changes in technology.
Applicants for admission to the Register must submit:
Full details of their qualifications
IST membership number and grade/s of membership of all professional bodies
Two professional references including one from the applicant's current supervisor or line manager. This must include confirmation of:
Training record
Experience and responsibilities
A full CV
Details and evidence of professional and personal development (PPD)
Mature applicants who have achieved a high standard of professional competence but don't have formal academic qualifications can also be admitted to the register if they can demonstrate sufficient experience and understanding in their field and can satisfy the other criteria. Additional references may be requested.
As a Registered Practitioner, you are permitted to use the post-nominal, designatory letters MIScT(Reg) or FIScT(Reg).
Registration must be renewed each year and the renewal application should be accompanied by evidence of Professional and Personal Development. Successful applicants should note that they may be removed from the register if:
They fail to undertake any PPD in a 2-year period, or;
There is evidence that their professional conduct falls below the standard expected, or;
They cease to be a technical practitioner.
The fee for admission to the Register is £25.00 and the annual renewal fee is £25.00. These fees may be subject to change.
Registered Practitioner Application Form
Applicants should complete the application form and return it along with supporting evidence, two written references and the correct fee, to the Institute of Science & Technology.
Pictures by kind permission of Manchester Metropolitan University