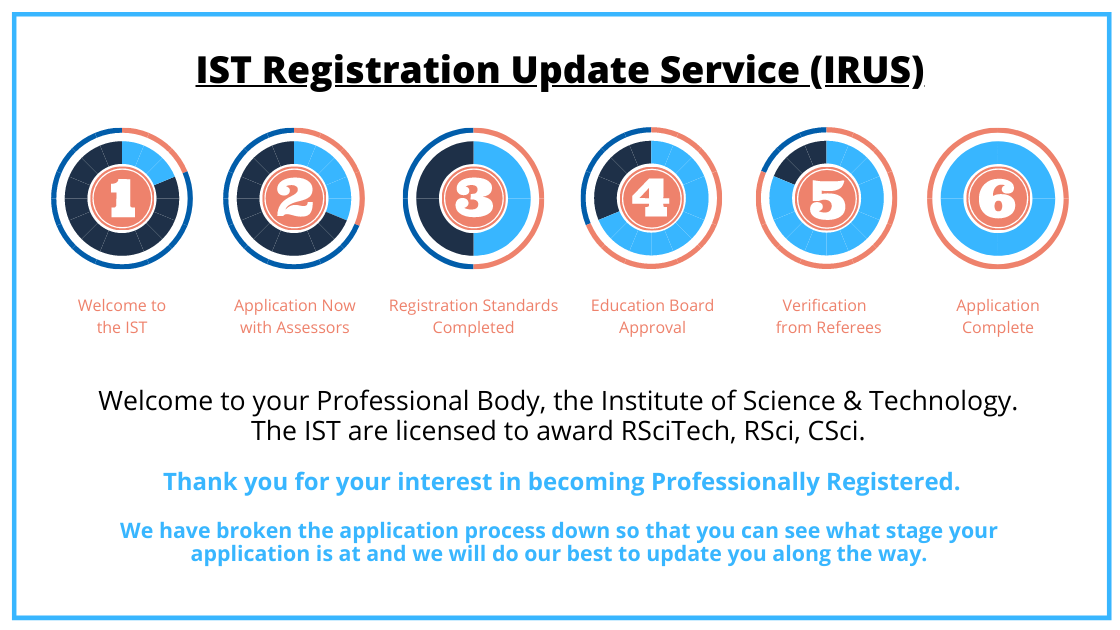 We have put together this information for applicants and members who are applying for Professional Registration accreditation with the Science Council. This will help to keep you up-to-date with what stage your application is at, but also helps you see what is left to do.
Registrants are amongst many professionals across the scientific community who demonstrate significant responsibility, apply industry standard principles and are aware of the business, management, safety, social and economic context of their work, not only within their organisation but also the wider environment. This is denoted by the use of your designatory letters of RSciTech, RSci or CSci.
If you have any questions, or would like an update on your application at any time, please contact registrations@istonline.org.uk.
---
Update Service – Step 1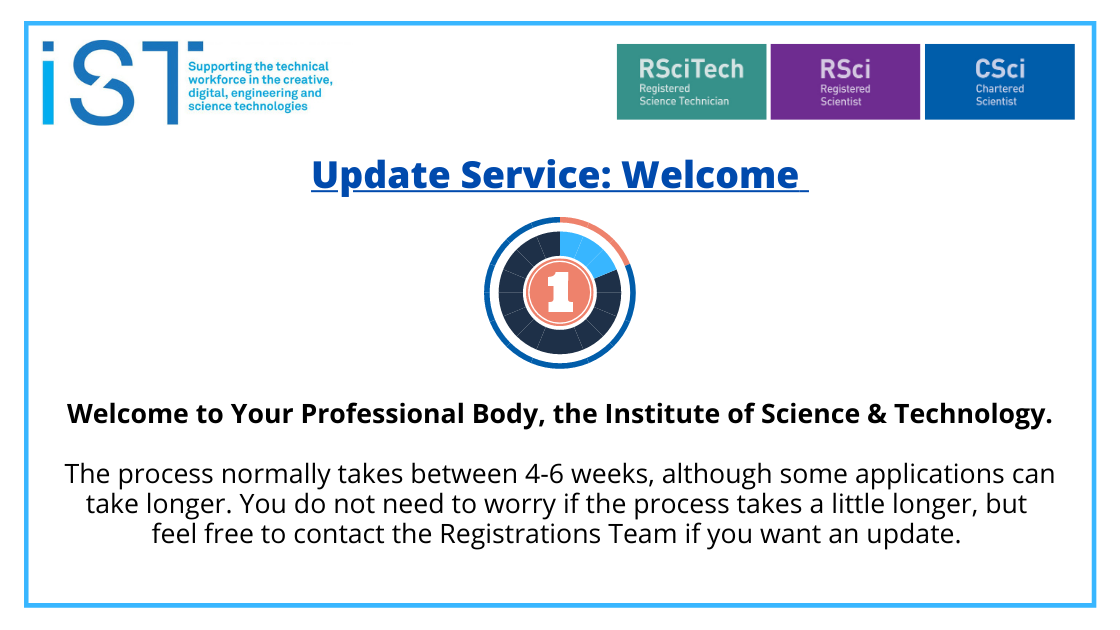 Welcome to the IST. Welcome to your Professional Body.
You will have heard from us by now and hopefully you will have sent all your documents to the Registration Team. Don't forget to send your CV too! Make sure that for whatever registration level you are applying for, that you also complete an application form (and membership form if you are not already a member).
Membership application form and Registration application form
Up-to-Date Curriculum Vitae
Any certificates to aid your application (notarised by your line manager)
Competency Report

RSci & CSci only

–> Completed PPD Report for previous year

CSci only

–> Equivalency Report (If you do not have a Level 7 qualification)
If you do not have certificates, don't worry, we use equivalency technical reports and experience if you have no qualifications. Professional registration is for everyone.
We use volunteers to complete the individual assessments, and they are amazing. They do this on top of their main jobs and we would not be able to offer this service without them. They will do their best to assess your application and give you helpful feedback if they require a little more information from you. This peer review process is an integral part of professional registration.
Whilst we endeavour to complete your application as fast as we can, we are aware from experience that the process can be delayed due to unforeseen circumstances.
If you have any questions at all, please feel free to contact us.
---
Update Service – Step 2
We use two assessors minimum as they will look through your competency report separately. We will then collate the information they provide to us for each section of your report.
If one of the assessors can no longer complete your assessment, we will re-allocate your application to another one of our volunteers. We have fantastic volunteers, so we are hoping that this should not delay your application too much.
Our assessors have been trained to be fair and check all aspects of your competency form. If they require any more information from you, we will be in touch with any feedback.
If the assessors require more information from your competency report to meet the Standards required, they will provide constructive help and advice on your report in order to help you complete each section.
If you are asked for more information this is more common than you think. But we are here to assist you at each stage so that if you do need to submit a few amendments, there is support on hand to ensure that you have enough information to complete these.
Your assessors would then re-visit your application.
Typically most people finish their amendments in about a month, but some applicants may need longer. We can work around you to ensure you have the time to finalise your additional information. If we don't hear from you, we will archive your application, but can re-visit this when you have the time to commit to the application.
---
Update Service – Step 3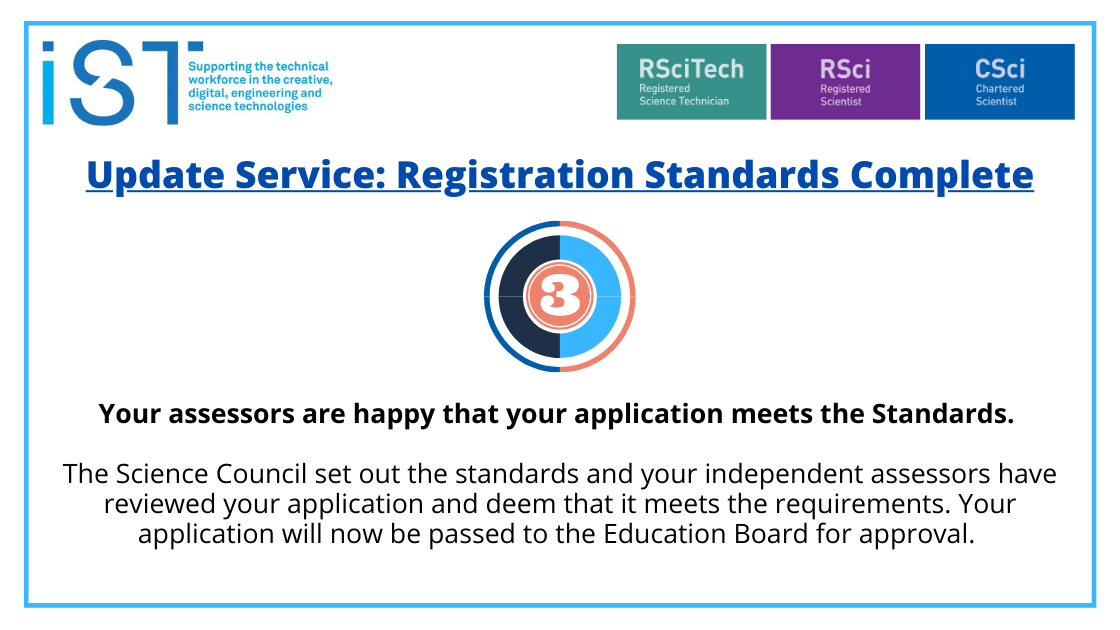 This is something to be proud of, because if you have reached this stage, your assessors feel that your competency report meets the Science Council and IST requirements for evidencing your application of knowledge and skill. The second part of this process can take around 1-2 weeks to complete. To prevent any delays please contact your referees to encourage them to look out for an email from us shortly and inform them to send your references back as soon as possible.
We will also be passing your application to be reviewed by the IST Education Board (EB). The EB is an executive sub-group, chaired by the Education Officer, who undertake a thorough investigation of the process, usually by referencing to policies to ensure the process has followed regulations and been a fair assessment of your application.
The Education Board is made up of IST Members/Registrants who are not checking over the competency report sections (as this has been completed by your assessors). They will be looking through each part of your application and making sure that your documents are complete and verified.
---
Update Service – Step 4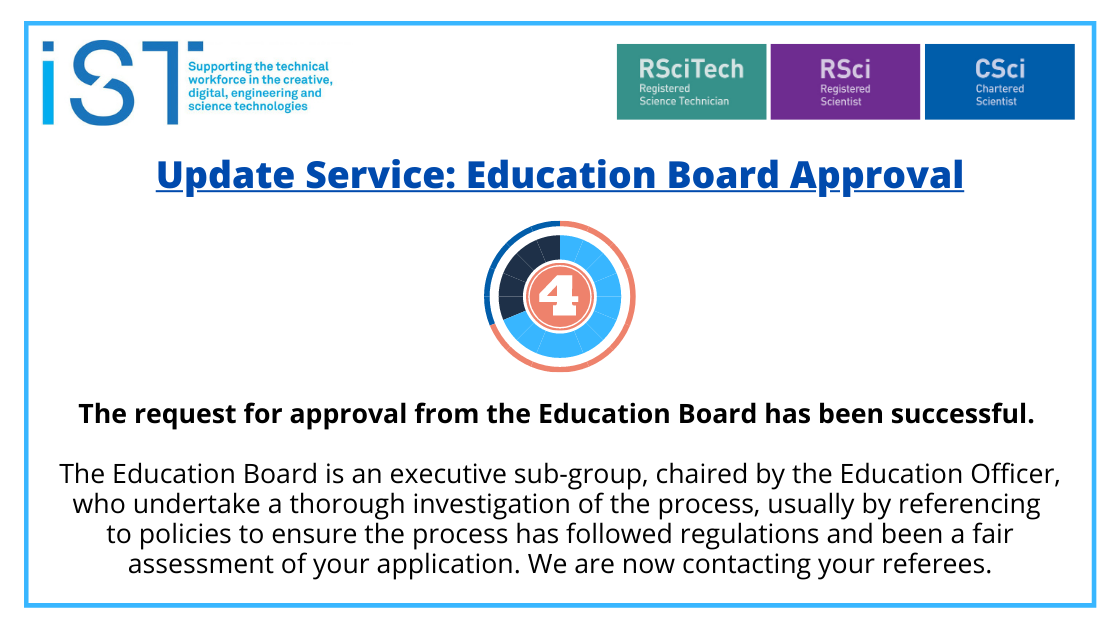 We have now received notification from the Education Board that they have reviewed and approved your application. Once we have the information that we sent to your referees, we will be in touch to confirm your award details.
---
Update Service – Step 5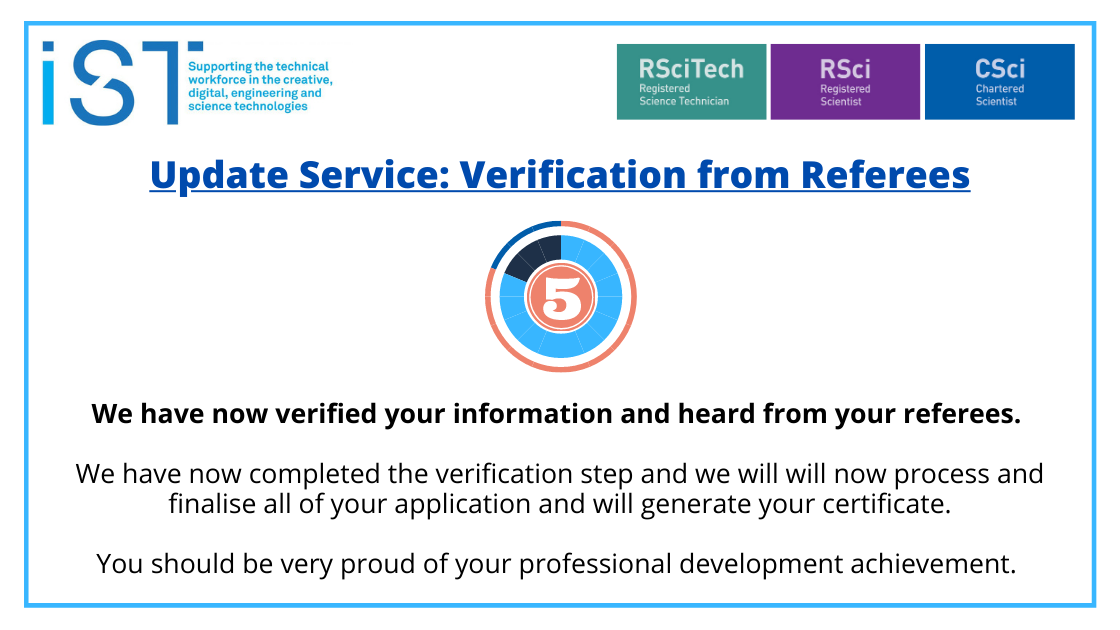 We have now received notification and evaluation from your referees. We are just bringing everything together and assigning you with your unique registration reference. This will not take long to complete.
---
Update Service – Step 6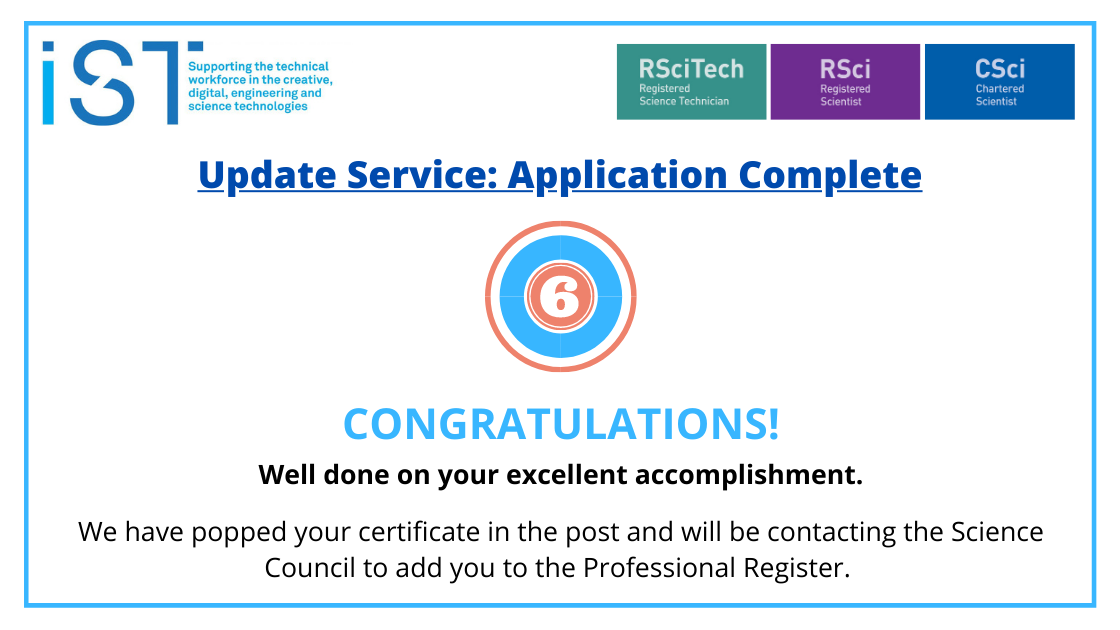 Congratulations. We are delighted to confirm that your application for professional registration with the IST has been successful and that you are to been awarded your registrants status. Your certificate should be with you shortly.
We are delighted to welcome you to our community, where you and other technical staff from all over the UK and scientific communities, are a valued member.
You will be required to renew your registration annually, along with your IST membership, both of which will now fall due on the anniversary of your registration date. To renew next year, you need to demonstrate that you have undertaken Professional and Personal Development (PPD). The type and amount of PPD activity you need to undertake is outlined on our website and you can always contact the Registration Team for advice.
Examples of PPD include; attendance at IST events or work events (such as the National Technical Conference), being a registered assessor, contributing to the Journal and The Tech Magazine.
Support is on hand at every point of your journey with us, so please feel free to contact us if you need any assistance, advice or help with any part of registration or membership. You can contact us at registrations@istonline.org.uk.